Wednesday 19 April is Youth Homelessness Matters Day – the annual national day to raise awareness, break stereotypes, and advocate for greater supports for young people experiencing homelessness.
At Brisbane Youth Service, we are seeing unprecedented demand for support, up 88% in just three years. Young people are being disproportionately impacted by the housing crisis, and the reality is that for many, there may be no other option than sleeping rough tonight.
What can you do?
Youth homelessness is an issue that can be addressed if we all work together on the solution. 
Share the #YHMD2023 social tiles below to help bring critical attention to the youth homelessness crisis.
Donate to Brisbane Youth Service to help create new futures for young people experiencing homelessness.
Sign the petition to develop a standalone national strategy to end child and youth homelessness.
Organise your school or workplace to collect donations of non-perishable food or sleeping bags for young people experiencing homelessness.
Contact fundraising@brisyouth.org to find out more.
Downloadable resources to share
#YMHD2023
#YouthHomelessnessMatters
#YouthHomelessnessMattersDay
#BrisYouth #NewFutures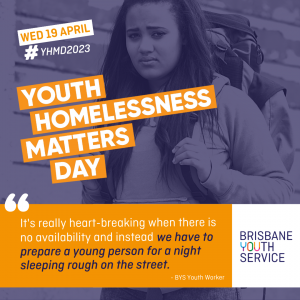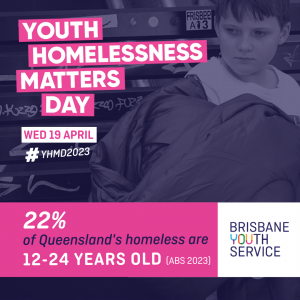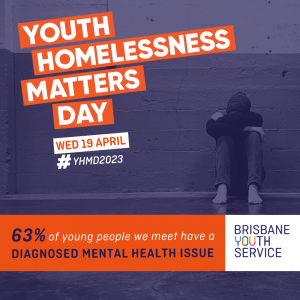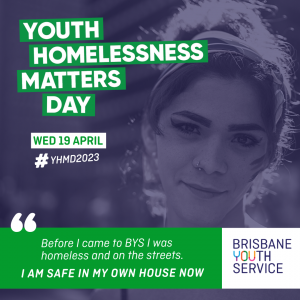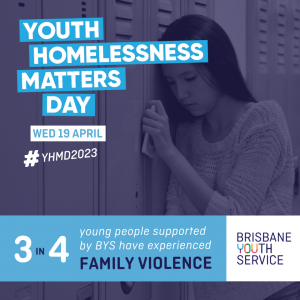 *BYS Annual Report – % of all young people who exited BYS support in 2021-22.
Share the posts below, including link to PETITION.