Youth homelessness is at crisis point
As you go to sleep tonight, think about the thousands of young people in Queensland who are without safe and secure housing.
Did you know that 42% of Australia's homeless population are under 25 years old?
Homelessness puts young people at huge risk of more violence and trauma, and right now young people, and their children, need support more than ever.
According to Anglicare's 2022 Rental Affordability Snapshot, there are ZERO affordable properties available for a young person on Youth Allowance – even in a share house.
The story of hardship for young people this year is 'grim and widespread', with floods and rising living cost adding pressure to already record low vacancy rates.
What is homelessness?
And why do people become homeless?
Homelessness does not necessarily mean 'rooflessness', but rather lack of safe and secure housing. There are many differing experiences of homelessness, including people living in crisis accommodation, boarding houses, rough sleeping, or couch surfing.
70% of young people leave home to escape family violence, child abuse, or family breakdown (2016 ABS Census).
Access to safe housing is a fundamental human right. Without it, young people and young families are pushed into poverty and insecurity.
Couch Surfing
Most common form of homelessness
Young people we meet who are experiencing homelessness are more likely to be couch surfing (65%)*.
Considered a hidden form of homelessness, couch surfing has been identified as a precursor to chronic homelessness, occurring in the very early 'in and out of home' stage, when young people are still at school.
Young couch surfers are highly vulnerable to both being suddenly cast out and to physical, sexual and financial exploitation at the hands of their hosts, despite frequently contributing financially.
"You don't have any space of your own, you can't have any privacy really. You don't have control over your situation, you feel totally out of control."
Together, we can end youth homelessness
Learn more about the homelessness crisis and help drive the change needed to fix it.
Explore key findings from the AIHW 2020–21 Specialist Homelessness Services Annual Report.
Q Shelter's vision is that every Queenslander has a home.
A a national campaign to fix the housing crisis launched by a coalition of housing, homelessness and welfare organisations.
Want to learn more?
Sign up to the BYS newsletter to stay up to date with our news, research, and latest initiatives.
Complex needs and positive outcomes
Young people who come to BYS for support are diverse and bring a wide range of complex life experiences and challenges.
The most common issue of concern is young people living in unstable and unsuitable/unsafe housing situations, including more than half of young people supported being homeless when we meet them.
Other significantly concerning issues continue to be the very high levels of family and relationship violence experienced by young people, high and increasing levels of mental health issues, unemployment and a critical lack of support in young people's lives.
Helping young people out of crisis to reach their full potential
Almost half of the young people who come to BYS seeking support are homeless. 76% are living in unsafe, temporary, over-crowded or unaffordable housing.*
All forms of homelessness significantly reduce after engaging in BYS programs.
Despite the challenges of increased demand, COVID-19, and flooding impact on housing availability in 2021-22, young people's rates of homelessness decreased by 21% after accessing BYS support. Young people living in stable, suitable housing nearly tripled from 22% to 64% after support.
There was an 82% decrease in young people living in unsafe housing after support.
*% of all young people who exited in 2021-22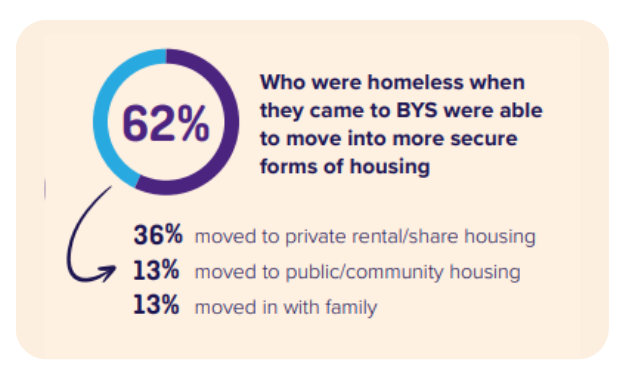 Donate to help
Many young people we meet are victims of trauma themselves, and community support plays a crucial part in breaking this cycle.
Your donation to Brisbane Youth Service goes directly towards vital services and programs that support young people and their children to move out of crisis towards new futures.