Young people often experience multiple, complex barriers to safe housing, good health and well-being. Through provision of appropriate supports,  Brisbane Youth Service helps young people to transition out of crisis – creating pathways to #NewFutures.
Housing
In 2021-22, almost half of the young people who came to BYS were homeless (44%). This is a decrease from 53% in 2020-21, but is not reflective of a change in the number of young people presenting as homeless, rather the enhanced use of an internal triage system providing emergency referral and brokerage responses, with fewer young people completing a full intake assessment.
76% were living in unsafe, temporary, over-crowded or unaffordable housing.
71% of young people came to BYS asking for help with housing..
61% said their housing was a crisis/serious situation.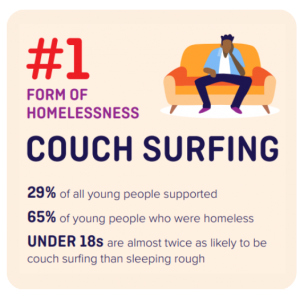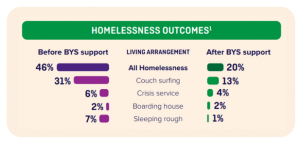 After support from BYS
All forms of homelessness significantly reduced after engaging in BYS programs. Despite the challenges of increased demand, COVID-19, and flooding impact on housing availability in 2021-22, young people's rates of homelessness decreased by 21% after accessing BYS support. Young people living in stable, suitable housing nearly tripled from 22% to 64% after support.
There was an 82% decrease in young people living in unsafe housing after support.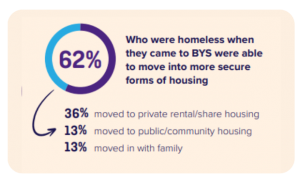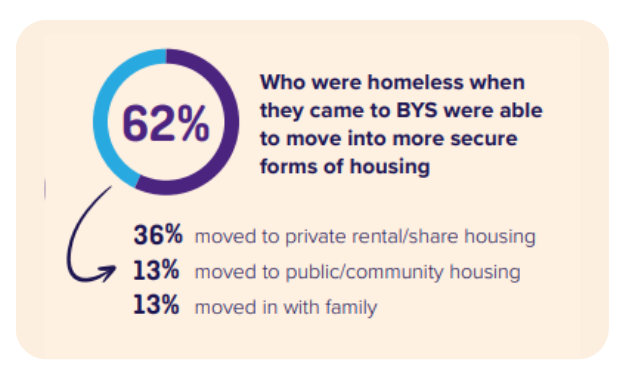 Violence
Family and intimate partner violence are well recognised as common causes of homelessness. However violence doesn't necessarily end when young people leave home. Young people who are experiencing homelessness are very often also impacted by different and ongoing forms of violence and abuse from people in their lives.
In 2021-22, of the young people supported by BYS:
72% had previously experienced family violence
45% had previous experience of a violent relationship
38% had been threatened or experienced violence from someone outside of their family or partner
10% said they were currently in a violent relationship (likely to be under-reported)
30% told us that violence was a crisis or serious concern in their lives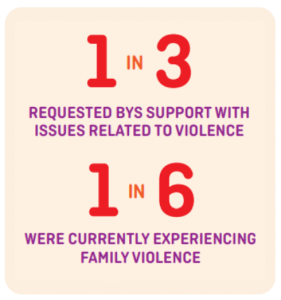 After support from BYS
While violence concerns are commonly under-recognised and under-reported at the start of support, this year more than half (51%) indicated that their violence situations were a bit or much better after coming to BYS.
The proportion of young people who were in a crisis or serious violence situation dropped by over half to 14%.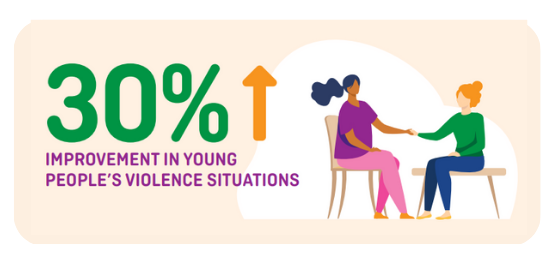 Mental Health
Mental health issues intersect closely with young people's other needs and access to safe housing. Poor mental health can be one pathway into homelessness for young people and can be linked to other reasons for housing instability, like early trauma or family violence. It can also be the result of other stressors associated with experiences of homelessness like financial instability, physical health issues, and lack of support.
The proportion of young people who came to BYS with diagnosed mental health issues has increased by 15% in the last three years. 
In 2021-22, 43% of young people we met identified suicide risks, an increase of 10% since last year.
30% identified self harming behaviours, an increase of 13% since last year.
Without support, mental health issues can be a barrier to young people being able to access and maintain safe and stable housing in the future.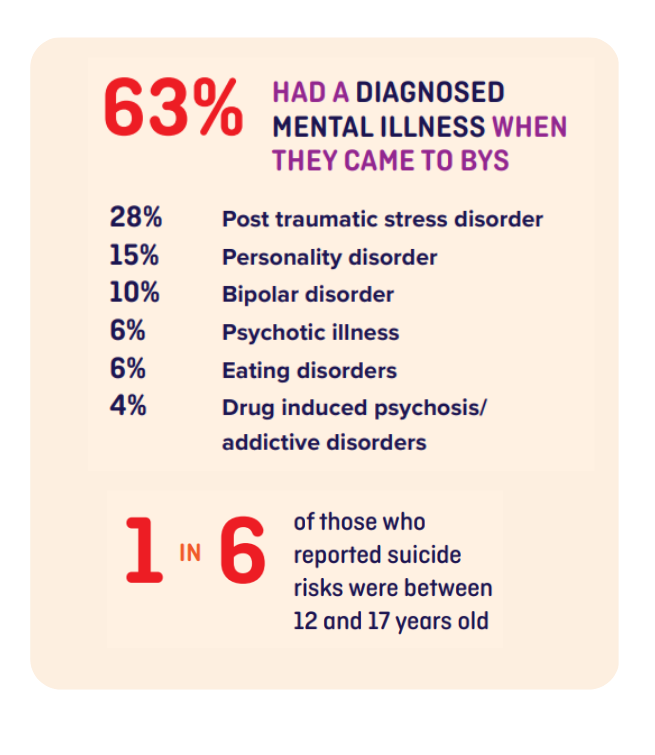 After support from BYS
With BYS support, young people report positive changes in their mental health.
In 2021-22, 64% of young people said that their mental health improved after BYS support, and serious or crisis mental health issues decreased significantly.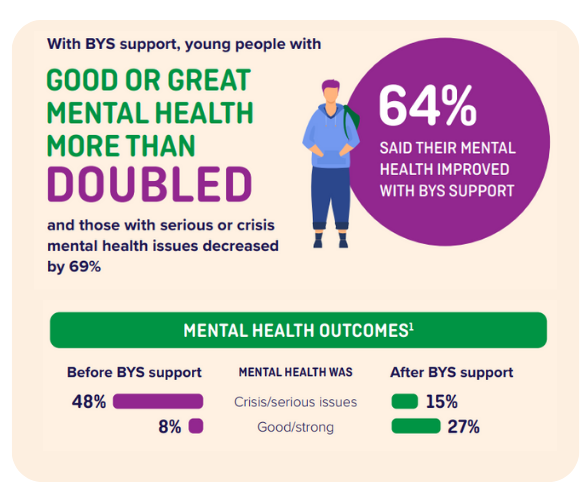 2021-22