Resources created using artworks by LGBTIQ+ young people in the Art for Change program which encourage others to address drug and alcohol, and other health, issues were launched  on 14th November at the Brisbane Youth Service Fortitude Valley Hub.
Brisbane Youth Service and Open Doors Youth Service ran an 8-week art therapy program for LGBTIQ+ young people called 'Art for Change'. The program resulted in the creation of a series of 10 post cards featuring art work by young people and information about change, that challenges common misconceptions. The post cards encourage young people to seek help, when needed, and start a conversation about the changes they would like to make around drug and alcohol use, and other important health issues. The cards will be used by Brisbane Youth Service and Open Doors staff to start difficult conversations with young people about life changes.
The Art for Change Project served as a powerful tool for opening dialogue about the complexity of the change process for young people attending Open Doors Youth Service and Brisbane Youth Service.

-Mikarla Teague (Art Therapist)
Young people participated by getting creative and expressing their experiences and perceptions of change through artwork and words. The program also provided an important opportunity to understand the experience of change from the perspective of young people, and to understand their key challenges in starting a change process.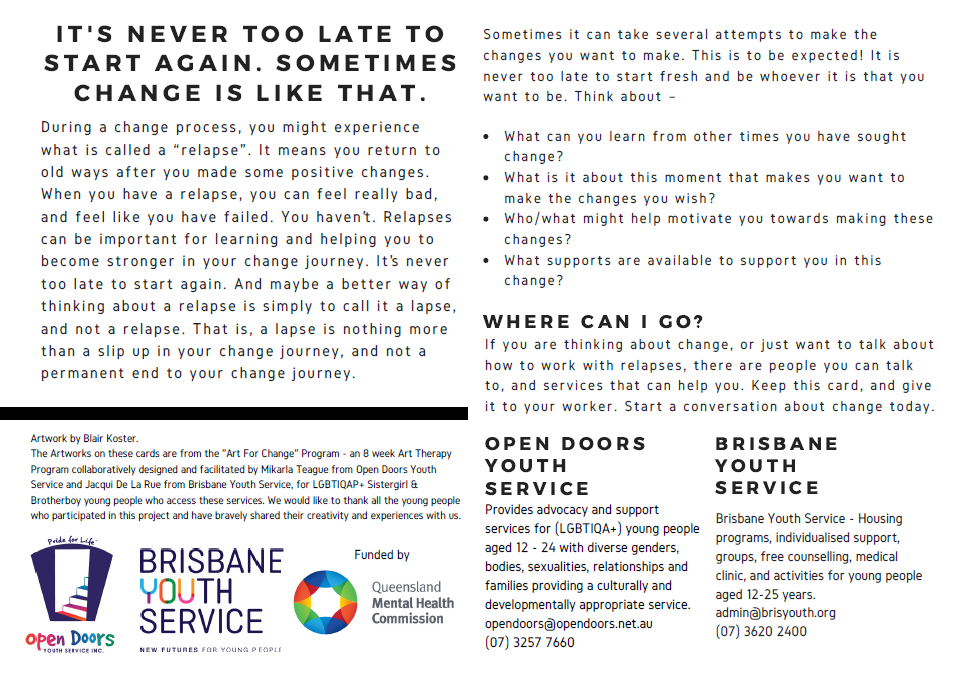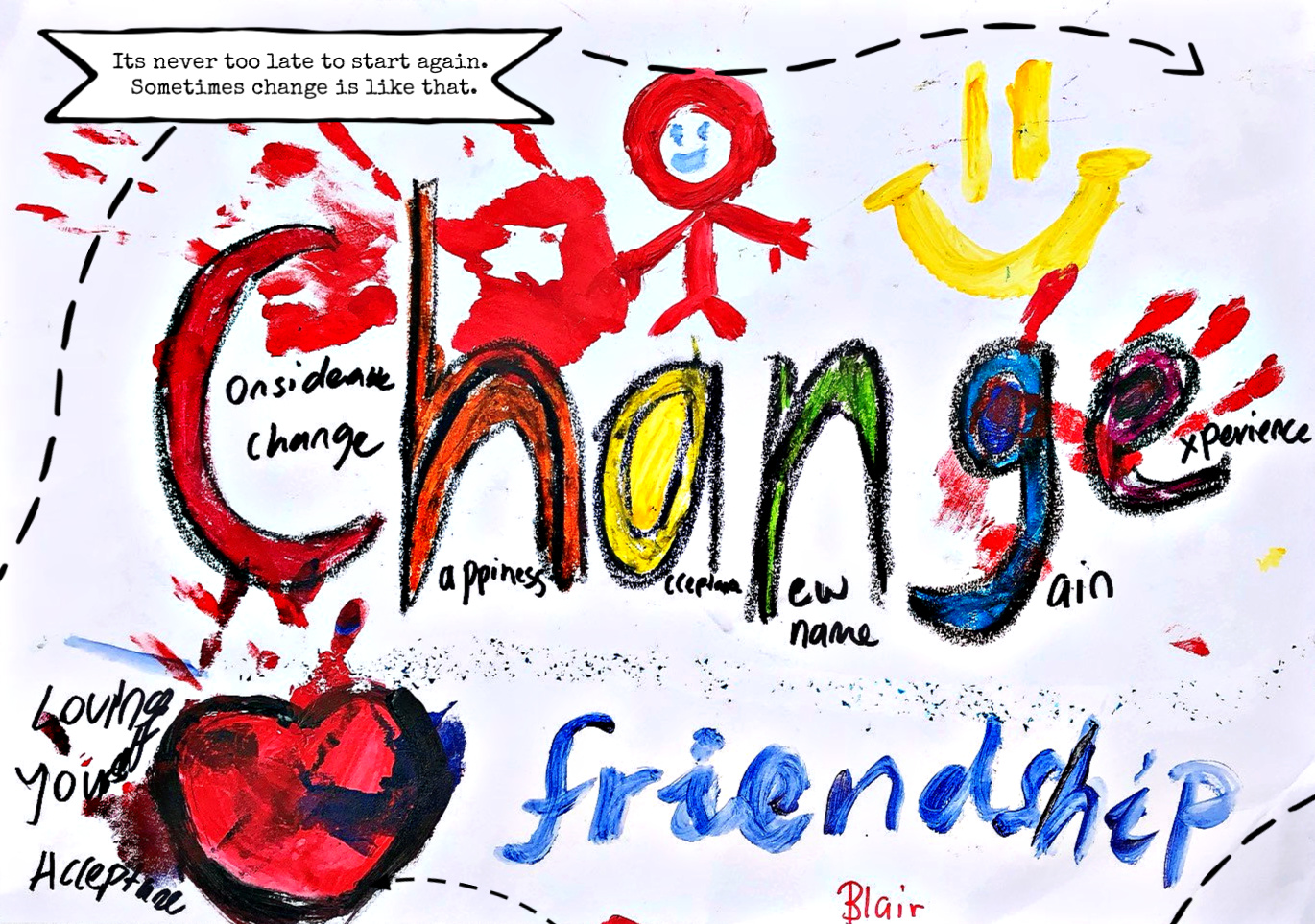 Data from the Brisbane Youth Service counselling program told us that young people lacked a resource that could help them start a conversation about change. It was this foundation that led us to join with Open Doors to produce a resource that could act as a starting point in the change process.

-Jacqui de la RUE (BYS Health Psychologist)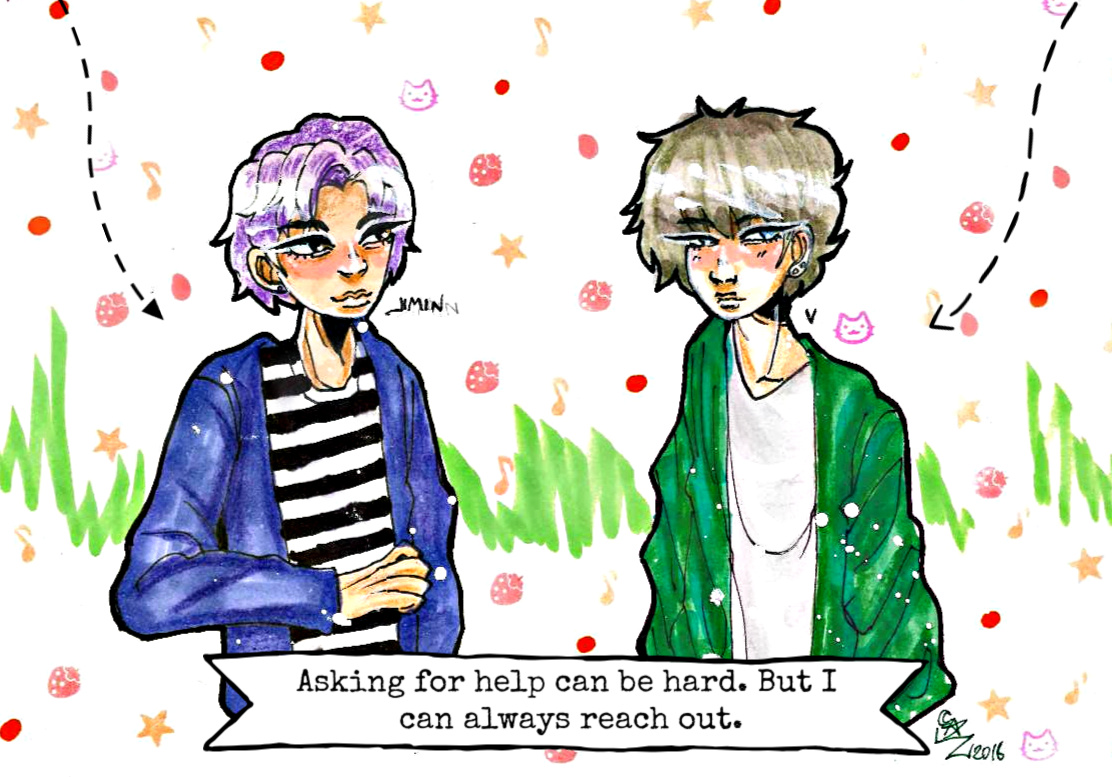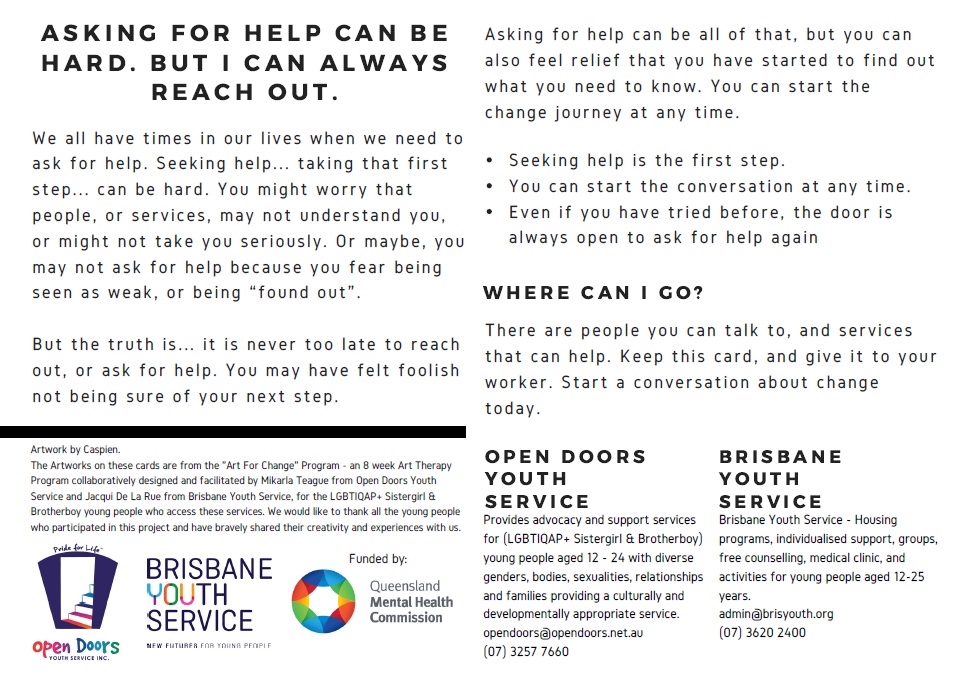 These cards are built from young people's lived experience and are presented in a format that young people are likely to engage with

-Jacqui de le RUE (BYS Health Psychologist)
The key theme of the art therapy sessions was: 'What does change mean to you?'. Themes of the post cards created included:
Asking for help can be hard. But I can always reach out.
Change can be uncomfortable.
I can change a few small things on the way to changing big things.
When the changes I make are not supported by others around me.
I want to make changes but where do I begin.
Whatever has happened in the past does not mean I can't make changes now.
It's never too late to start again. Sometimes change is like that.
Yes, change can be scary and beautiful at the same time.
I can make changes happen when I'm ready.
It looks so easy for other people, why is change so hard for me.
Collaboration Details:
The Art for Change project was funded by the Queensland Mental Health Commission.
Open Doors Youth Service provides advocacy and support services for (LGBTIQAP+ Sistergirl & Brotherboy) young people aged 12 – 24 with diverse genders, bodies, sexualities, relationships and families providing a culturally and developmentally appropriate service.