21 April 2021
Wednesday 21 April 2021 is Youth Homelessness Matters Day – the annual national day to raise awareness and promote discussion of youth homelessness amongst decision makers and the wider community.
Youth homelessness is at crisis point and likely to worsen in the wake of the COVID-19 pandemic, yet many don't know the impact this issue has on the young people in our community or what to do to help.
Youth Homelessness Matters Day is a call out to everyone, especially those who believe in the power of community, to take action and publicly state that #YouthHomelessnessMatters.
Did you know that 19-24 year olds experience the highest rates of homelessness in Australia?
Brisbane Youth Service is getting behind the campaign and hope you will join us.
What you can do:
Share to raise awareness
Share BYS social tiles and state why #YouthHomelessnessMatters to you with your friends, fans and followers on social media and help bring critical attention to the growing youth homelessness crisis.
Don't forget the hashtags:
#YHMD2021
#BrisYouth
#NewFutures
#YouthHomelessnessMatters
What you can do:
Donate today to make a difference
Donate to Brisbane Youth Service and support new futures for vulnerable young people experiencing or at risk of homelessness.
Download resources
(right click to download)

social media tiles – Facebook / Twitter / LinkedIn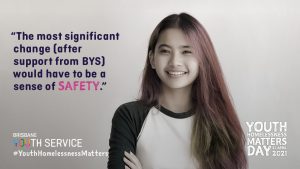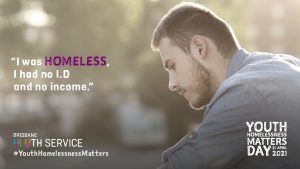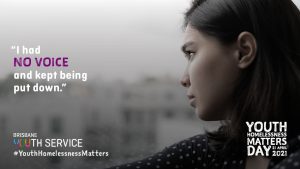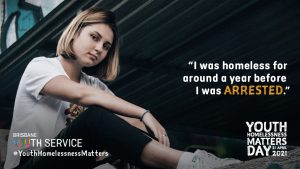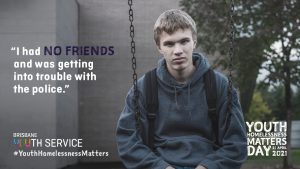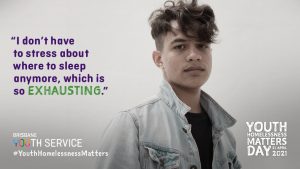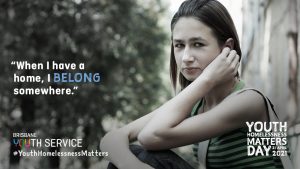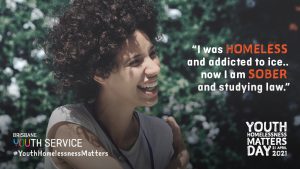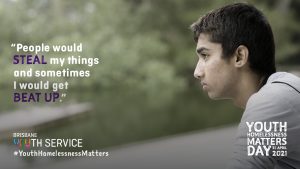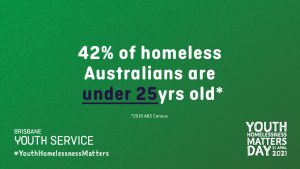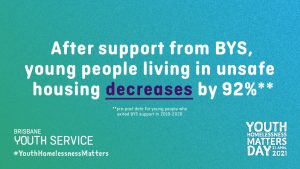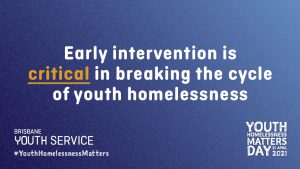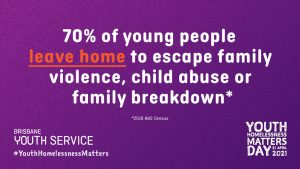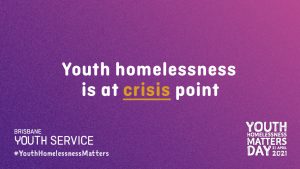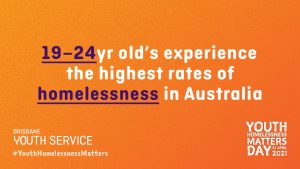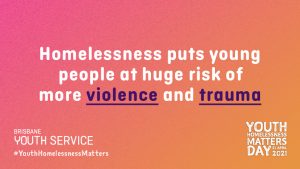 social media tiles – Instagram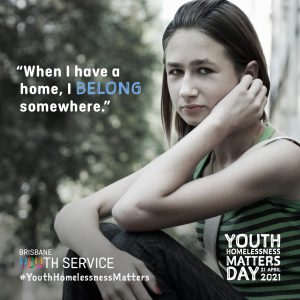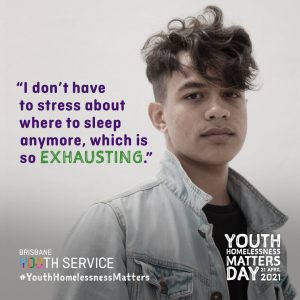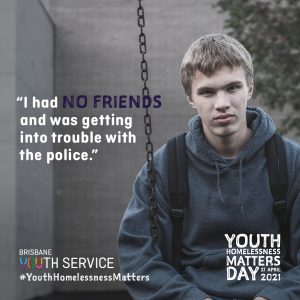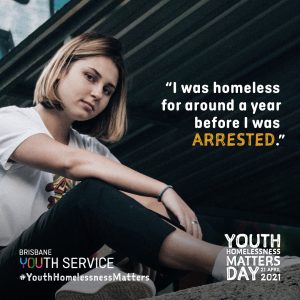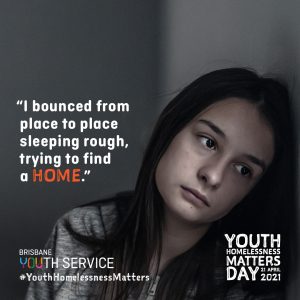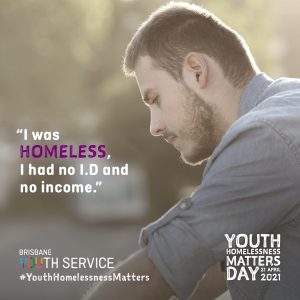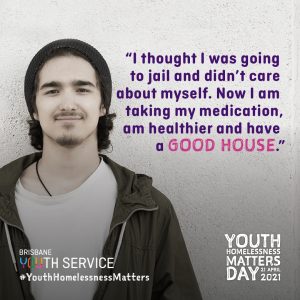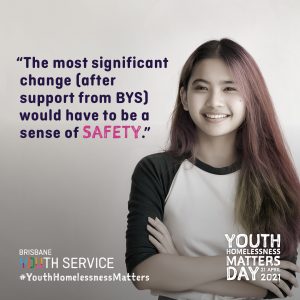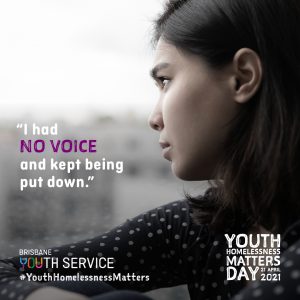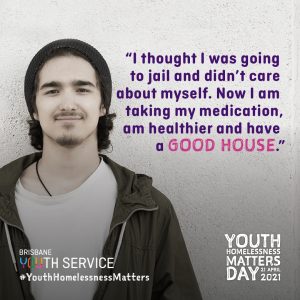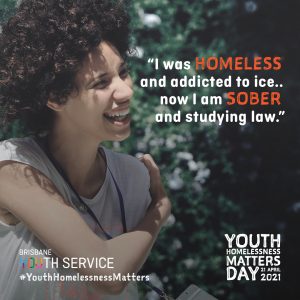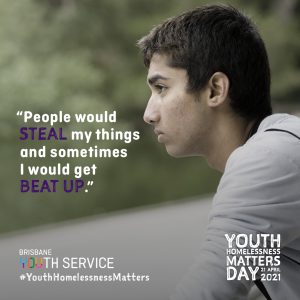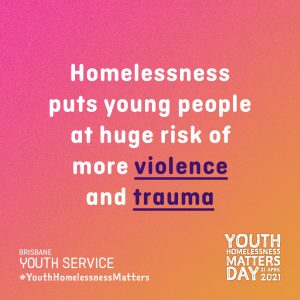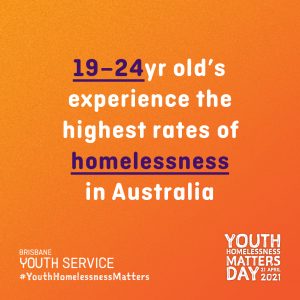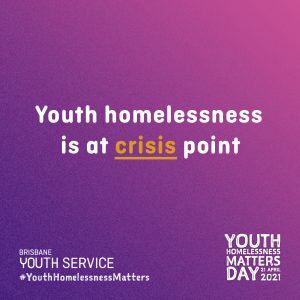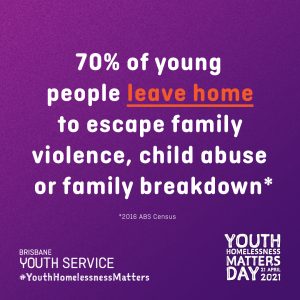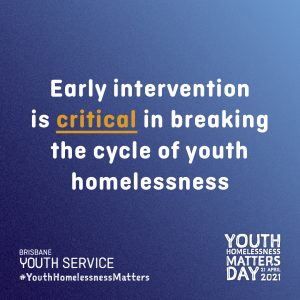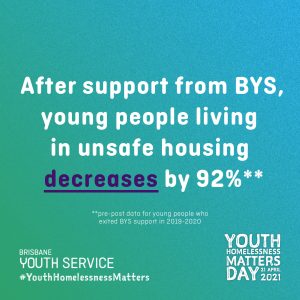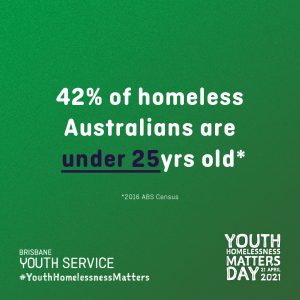 Two in five Australians who are homeless are under 25 years old.
Early intervention is vital to reduce their exposure to violence and trauma and prevent loss of hope for the future. Since 1977, Brisbane Youth Service has been working to create new futures for vulnerable and at-risk young people, providing free, confidential services including:
crisis and transitional housing
medical clinic
mental health and drug and alcohol programs
specialist young women's services
parenting and family assistance
emergency relief
Youth Homelessness Matters Day is a project of the National Youth Coalition for Housing, of which Brisbane Youth Service is a member.