Ray
Anyone experiencing the noise and bustle of Fortitude Valley knows how overwhelming it can be.

Someone living with a sensory disorder-where lights, noise, even the feel of clothes on the body can be overwhelming-would have to persevere to spend time there. Ray has such a disorder, but persists with visits to the Hub, and even lives nearby. So it's not surprising Ray claims the attribute of persistence as a strength.
'I'm very strong-for everything I've been through-to still be here …
It's not easy to be open about mental health, but it's very important.
I had struggles with mental health my entire life. When me and my partner travelled to Brisbane … in the move … I didn't really have support with that transition. I was in and out of hospital, I sought a lot of different mental health services, changing medications … it was hard to get through every day. BYS has been the best service out of any that I've used in Brisbane.
BYS has been a rock for me. Where other services have had the workers come and go, or they'd be quite unreliable, I've only had two workers over the last three years. I've had the same doctors and nurse, the same team around me and it's good to see the same faces when you come in.
It's helped me get through, to have that routine and stability when a lot of other stuff in your life doesn't feel as stable.
I felt like they cared beyond my appointments … the workers here are genuine and although I know there's professional boundaries, it's more like a friend that you're talking to, and … they care very holistically, so if there's one thing you're struggling with … they often go beyond their role to help you, and if they can't, they'll help you find someone who can.
BYS is … absolutely fantastic. They're accommodating. They make a lot of things accessible for me.
I love the art the most on Tuesdays. I always come … I often come to the Monday outing as well, we do lots of different stuff like movies, or golf, or hiking, bowling, art galleries. It's really good, helping me to get out of the house.
I'm very much better than I was when I first came to Brisbane. When I came I didn't think that I had a 'normal' level of mental health … it was just bad for me all the time, whereas now I know I have a 'normal'…
I've found that, and it feels really good…'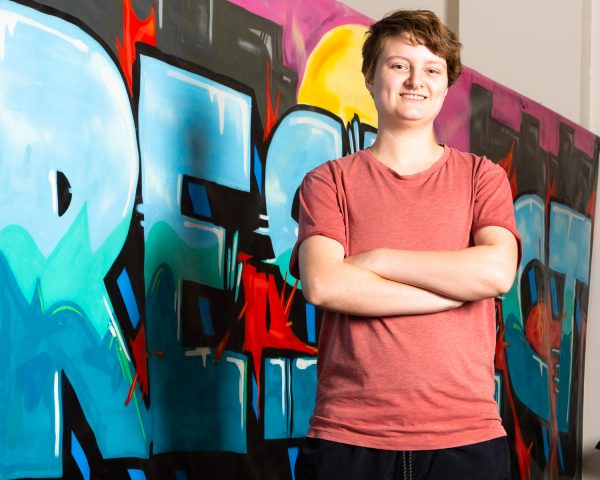 BYS is … absolutely fantastic. They're accommodating. They make a lot of things accessible for me.
Contact Us
Do you need support from Brisbane Youth Service?