On the 26 February 2018, Reidy House at St Joseph's College, Gregory Terrace, held their annual Reidy House Rice Lunch.
Students share in a bowl of rice to show solidarity with those that go without. BYS Drug and Alcohol Intervention Workers Sian and Jesse went to Gregory Terrace on the day and spoke to the students about the work BYS does and the young people we support.
Reidy House students presented Jesse and Sian with the latest Reidy House jersey emblazoned with the Brisbane Youth Service insignia which the students wear. What a committed show of support this is from Reidy House!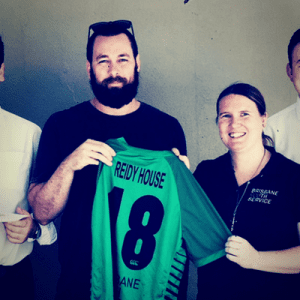 The annual rice lunch raises funds for Brisbane Youth Service and gives students a chance to experience how it feels for those who don't have enough to eat.
Reidy House is a long-time supporter of BYS with students over several years learning about the work that BYS does, contributing to greater social awareness and understanding in the community.
BYS greatly values the connection with Gregory Terrace through Reidy House. The relationship builds awareness of the issue of youth homelessness in Brisbane and raises funds that make a real difference to the young people we support.
Rob Johnson, Dean of Reidy House, has previously reflected,
"Our relationship with BYS is incredibly beneficial for our boys as it raises their awareness of the homelessness issue. It sparks discussions and questions about how things can change into the future. Whilst we raise money and donate goods, the benefits for us are far greater."