Thanks to a herculean effort by everyone involved, we are very proud and excited to announce that Burpees for BYS 2018 was a huge success. Dave Kramer (a.k.a. Dave the Trainer) – the guy who started it all – smashed out 2,840 burpees in eight hours and together with BFS Australia, Dexter ENP, Blueprint Health and Fitness, Brisbane City Council (Central Ward) and everyone who donated, raised $7,000.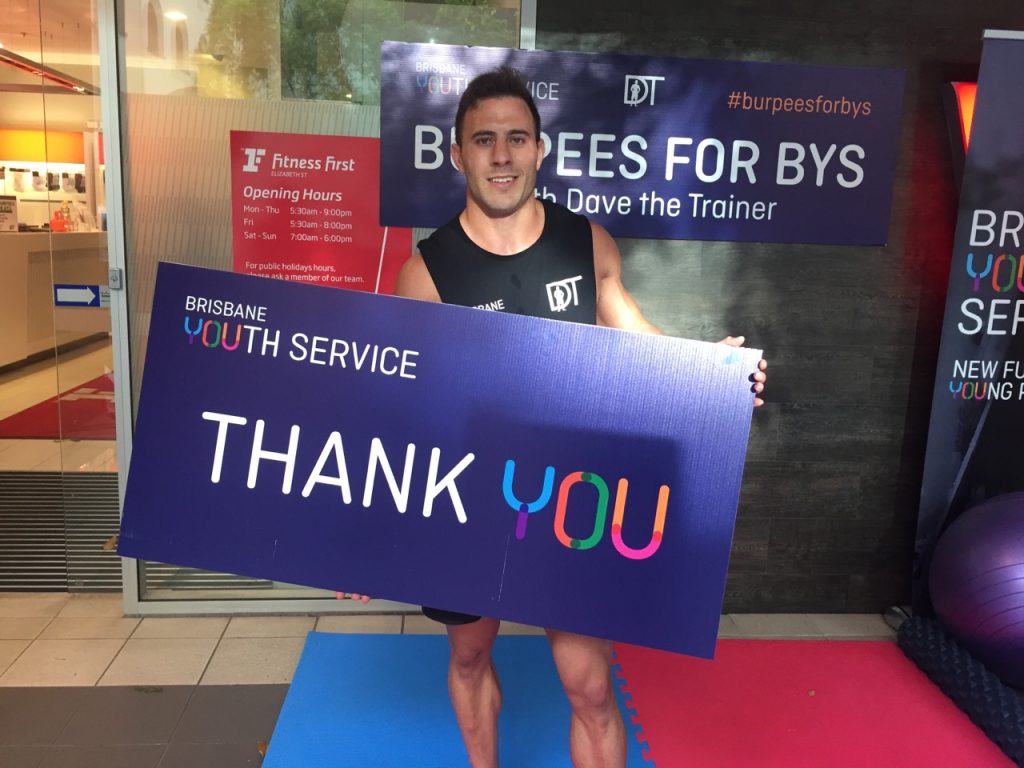 The Burpees for BYS fundraising challenge began in 2017 when Dave put his body on the line in a personal challenge that would test even the fittest—completing 3,000 burpees in eight and a half hours. Through his 30 Day Fitness and Burpees for BYS challenges last year, Dave raised over $6,000 for Brisbane Youth Service while bringing people's attention to the issues faced by young people who are experiencing or at risk of facing homelessness.
This year Burpees for BYS was all about bringing the fitness community together to increase awareness for Youth Homelessness Matters Day as well as raising vital funds, encouraging gyms, CrossFit boxes, F45 and other fitness groups, personal trainers and their clients, and workplaces to take on the burpees challenge so that vulnerable young people have access to the services and support they need to navigate their own life challenges and thrive in the community.
Every burpee and every dollar donated will make a real, positive difference in the lives of vulnerable and disadvantaged young people. The money will be used to purchase emergency relief Backpack Beds (swags) for young people sleeping rough on the streets, as well as to fund peer social activities aimed at reducing isolation and promoting health and wellbeing. Such activities would include art workshops, cooking classes, excursions, teaching life skills, and leadership and confidence activities.
A big thank you to everyone who participated and or donated from all of us here at Brisbane Youth Service and the young people and young families we support. We also thank Dave for his incredible compassion and commitment to raising awareness around the issue of youth homelessness and his outstanding fundraising efforts.
Special mention also goes to Will and Ty from the Brisbane Bullets who dropped by to bust out a few burpees with Dave on the day, and Quest Community Newspapers for their support in promoting the campaign.
We are continually inspired by the creative ways individuals, organisations, and supporters choose to assist us—connecting and partnering with us so that together we can do more to ensure our sustainability and to continue creating new futures for young people.