Gala on the Green is an annual black tie cocktail charity event organised by a committee of young professionals in support of Brisbane Youth Service. Since its inception in 2011, Gala on the Green has raised over $130,000 to assist in creating positive change in the lives of young people experiencing homelessness and disadvantage.
The 2017 Gala on the Green donation was used to fund a "Smarten Up"Education Grants Program aimed at supporting vulnerable and disadvantaged young people to engage in education and training. This was intended to support young people to build skills, confidence and promote independence from welfare through access to employment income and achievement of personal learning and development goals. Grants were provided for purchases aligned with individual case plans and directly related to over-coming barriers to educational achievement and building positive new futures.
Forty-two (42) young people received Gala on the GreenSmarten Up Education Grants.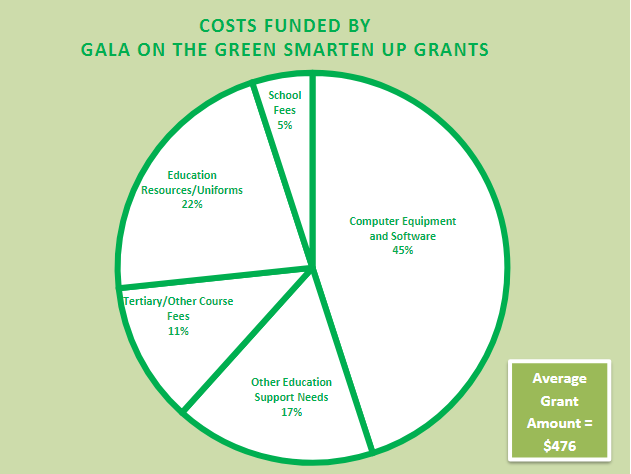 Gala on the Green Smarten Up Grants purchased laptop computers, and associated equipment (eg carry bags, modems, Microsoft software) for 27 young people(45% of grants).
One of the primary barriers to educational engagement and achievement is access to a laptop. With most learning and assessment submission now online, reliable computer access is now an essential requirement of all high school and other further forms of education. Purchase of a computer is almost always, however,beyond the capacity of young people who are surviving on government benefits or don't have a substantial steady source of income. Providing a laptop computer can be a gateway to achieving qualifications that increase the chances of gaining employment and financial stability for the future.
Gala on the Green Smarten Up Grants paid School fees and Course Fees for high school, professional training/qualifications or tertiary education for 10 young people.
Examples included:a Certificate III in Animal Studies; TAFE year 12 equivalent qualifications; Fees for a Diploma of Screen & Media; a Certificate III in Hospitality and a Certificate II in Automotive Electrical Technology.
Gala on the Green Smarten Up grants funded uniforms and other education-related resources for 13 young people.
Examples included: TAFE Learning Materials for a Cert III in Childcare; Business Clothes for a young indigenous woman doing a Business Administration Traineeship; a scientific calculator and text books for a young man doing Year 12 Maths; and a set of school uniforms and shoes for a young man who was not attending school because he had grown out of his clothes and shoes and couldn't afford to replace them.
Ten young people received Gala on the Green Smarten Up grants for other costs associated with overcoming their personal barriers to achieving educational outcomes. These grants included assistance to get a driver's license or paying public transport costs to get to school or course locations; bike safety gear to be able to ride to school; paying for a young man to attend his graduation ceremony with his peers; and purchasing optical glasses for a young woman so that she could do her study without headaches.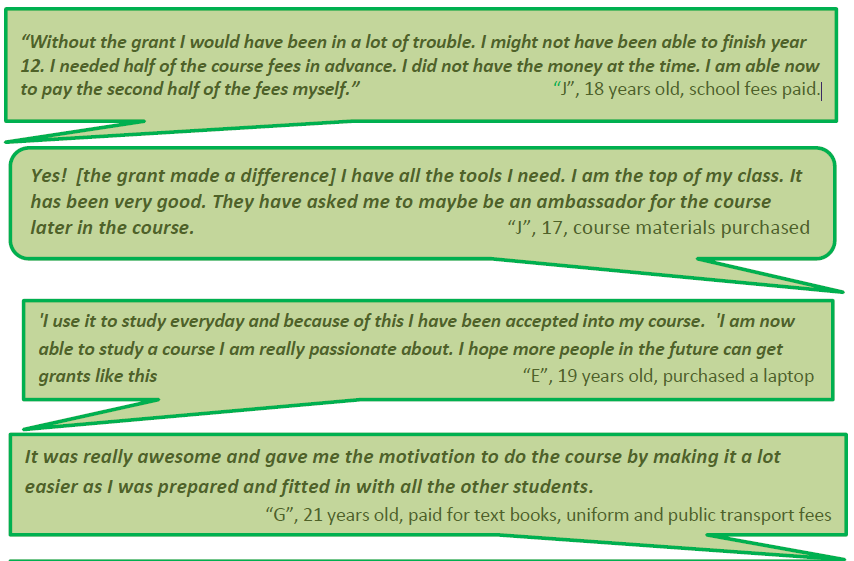 Grant amounts ranged from $26 to $1000 each, with $1000 being the set maximum for any one person. A total of $19,995.37 was dispensed across the 42 grants, with the average grant amount being $476 per young person. Grants were given out between 29 June 2017 and 8 May 2018.
The annual Gala on the Green charity event will be held again in September 2018. Keep an eye on our social media for all the updates.