The Property Industry Foundation, long term supporters of Brisbane Youth Service, held their amazing 5th annual Brisbane Charity Sailing Cup event on 18 May. 40 yachts and over 400 corporate attendees enjoyed a beautiful Queensland day, sailing in and around Moreton Bay.
The event was a tremendous success raising $60,000 net for at-risk and homeless young people.
The money raised from this event will go directly to building Queensland's first PIF House. The PIF House project will be the refurbishment of the existing 3-bedroom house on the property, as well as the construction of 3 x 1 bedroom apartments and 3 x 2 bedroom apartments – a total of 12 more bedrooms to add to the housing opportunities currently on offer for homeless young people.
Once complete, PIF House will be managed by Brisbane Youth Service, housing vulnerable young people.
Two young people from Brisbane Youth Service also enjoyed a magic day out on the water sailing on Octet. What a fabulous experience they had thanks to the Property Industry Foundation, skipper Peter and first mate Ray.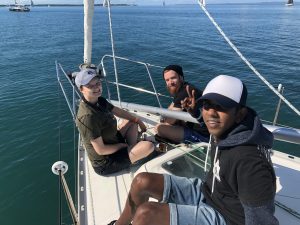 Thanks to the organising committee, sponsors and yacht owners who made this event possible.