At the 2018 AGM, Brisbane Youth Service said farewell to long time President Helen Wood, and Treasurer Brian Tucker.
BYS Life Membership was awarded to Brian for his dedication, support and counsel over 11 years. Brian joined the Board in 2007 and has guided BYS into a solid financial position and offered a new appreciation for numbers through his engaging reporting style. At the AGM, Brian spoke of the first time he became aware of Brisbane Youth Service and how he decided to divert a cheque headed for his superannuation fund to a donation for Brisbane Youth Service after speaking to someone from BYS about the work we do.
Outgoing President Helen Wood was gifted an Honorary Membership and acknowledged for her encouragement, skills and energy in leading and building a robust Board.  Helen was President for the last 5 years and her leadership and commitment to the work of BYS has helped significantly grow and mature the organisation. Helen has chosen to move on from BYS this year to pursue other Board roles in Victoria where she now lives.
At the AGM, Helen reflected on her time at BYS as the most rewarding of her career and offered her continuing support from Victoria.
This was a very difficult decision as I am very committed to our mission and vision. I will continue to be a strong supporter of BYS. My decision was made more easily knowing that our existing and new members on the Board have the skills and passion to continue our good work. Helen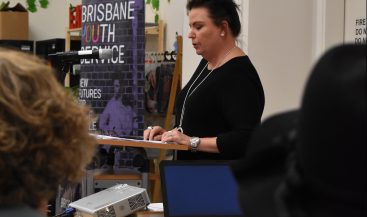 Helen wished everyone the best for the coming year and is looking forward to seeing the great work of the organisation continue to gain relevance and prominence for the solutions and support provided for young people.
Both Helen and Brian have been active supporters and contributors to BYS and given generously of their time to engage with the broader staff group.  I shall miss them both and thank them for the care, support, and guidance they have offered me over the years.  Annemaree
Brian provided this poem for the Annual Report 2017-2018:
I'm off to BYS today
maybe there'll be a prize;
it's the Treasurer's turn to have his say –
oh what a nice surprise.
We finished the year with a surplus,
which is something you can't guarantee.
A new grant is always a plus
but expenses grow faster than weeds.
Annemaree is off chasing more funding
and Sarah's in charge of the bank;
the commitment from staff's never-ending
with our supporters, too many to thank.
BYS has its sights on the future,
our team is the best it is said.
For rough sleepers there's only one cure –
a home with a nice comfy bed.
Brian Tucker
BYS welcomed Nikola Stepanov to the BYS Board as President / Board Chair and Kelly Moore was appointed Treasurer. Jake Arden, Michelle Wade and Ben Paris were appointed as new Board Members.