Support BYS through Workplace Giving
Workplace Giving is an effective way for employees to make regular donations to causes they are passionate about. As an employee, you decide to donate a set amount each week, which comes out of your pre-tax pay. It is win-win: you pay less tax, and your chosen charity gets much needed funds.
Whatever amount you are comfortable with. Even the smallest donation can make a difference … just $5 a week ($260 per year) can have a big impact. With $90 meaning 1-night off the street for a young person, you can make a real difference in the lives of the young people we assist for the cost of a coffee each week.
By registering for workplace giving with BYS your organisation will be recognised on our Workplace Giving webpage and if over $20k is raised by your workplace you will be awarded 2 complimentary tickets to our annual fundraising event – Gala on the Green.
If you are new to Workplace Giving, here is how to get started:
BYS is registered with two leading Workplace Giving platforms –  Good2Give and Good Company.
These organisations specialise in helping employers develop effective Workplace Giving programs. They operate platforms that manage the administration requirements, reducing the burden on your organisations and helping your staff connect with and support the causes that matter to them. Please note that pricing for your organisation and individual employees vary across the platforms.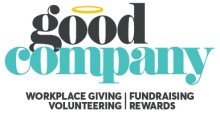 Goodcompany's One Stop Workplace Giving Platform empowers staff to give their Time (general volunteering), Talent (skilled volunteering) and Treasure (donating pre-tax once off or ongoing) to help support hundreds of great charities. Many leading Australian companies work with Good Company to deliver an engaging experience for staff, with state of the art reporting for management. Best of all – it's so easy to launch, run and grow giving. For more info see www.goodcompany.org or call 03 9595 6700 or email  support@goodcompany.org.

Recommended for larger organisations (500+ employees); Good2Give is a state-of-art online platform that removes the complexity of administering and building a vibrant Workplace Giving program. The platform's designed to enhance staff participation and connection to the charities and causes they care most about. CAF's Client Relations Managers are experienced in supporting businesses across all aspects of a corporate community investment program, including managing best-practice Workplace Giving programs. Learn more  see https://good2give.ngo/ or call on 02 9929 9633 or email info@good2give.ngo.
Please contact our partnerships team if you'd like more information about Workplace Giving.
Tamasin Chugg  – Strategic Partnerships Coordinator
07 3620 2427