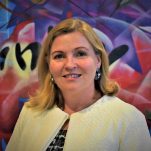 Dr Nikola Stepanov has dedicated much of her career in service to the public sector and community and has a background in professional ethics and governance, research, mediation, dispute resolution and board governance. She has particular expertise in resolving complex and contentious ethical issues and conflicts. Nikola holds five degrees including a Juris Doctor (JD), and a Doctor of Philosophy (PhD, Melbourne) which explored the boundaries to parental consent to non-therapeutic interventions involving children. She is also a Fellow member of the Governance Institute of Australia, an accredited mediator under the National Mediator Accreditation System, and an accredited Family Dispute Resolution Practitioner under the Federal Attorney General's Department.

In her 'day job' she is the Queensland Integrity Commissioner.
Nikola is a committed child advocate, with a particular interest in promoting the rights and wellbeing of the most vulnerable populations of children such as those experiencing terminal illness, gender dysphoria, homelessness, and other issues where the consequences are grave.