Help us to spread some Christmas cheer this year!
The holiday season is meant to be a time of celebration, however, if times are tough it can be especially difficult. For many young people experiencing homelessness, a Christmas dinner simply isn't a possibility and the giving and receiving of gifts is an unaffordable luxury.
Every year Brisbane Youth Service spreads Christmas cheer by distributing around 300 food hampers to young people and young families accessing our services. We rely solely on donations to provide these hampers which are filled with a mix of non-perishable food items and festive treats.
If you would like to help by donating a hamper for a young person or young family, please see below for the required list of items which can be easily packed into a reusable, canvas supermarket shopping bag. It is important to us that every young person/family gets the same quantity and types of food in their hamper, so please be guided by the list below.
Pre-packed hampers can be delivered to our Valley Hub at 42 McLachlan Street, Fortitude Valley between 9am-5pm on the following dates:
Tuesday 24th and Wednesday 25th November 2020
Tuesday 1st and Wednesday 2nd December 2020
Tuesday 8th and Wednesday 9th December 2020
We understand the lead up to the holiday season is a busy time for everyone, so if you don't have time to organise a collection or shop for food, you may wish to:
Purchase a hamper online for $35 for a young person or young family. (Please type 'hamper' in the Additional Comments section.)
Donate a gift card/s for a young person or young family. (Please note we do not accept gift cards that are redeemable at alcohol retailers. Gift cards for KMart, Big W, Target, Rebel and cinemas [e.g. Events and Hoyts] are best suited as Christmas gifts for our young clients.)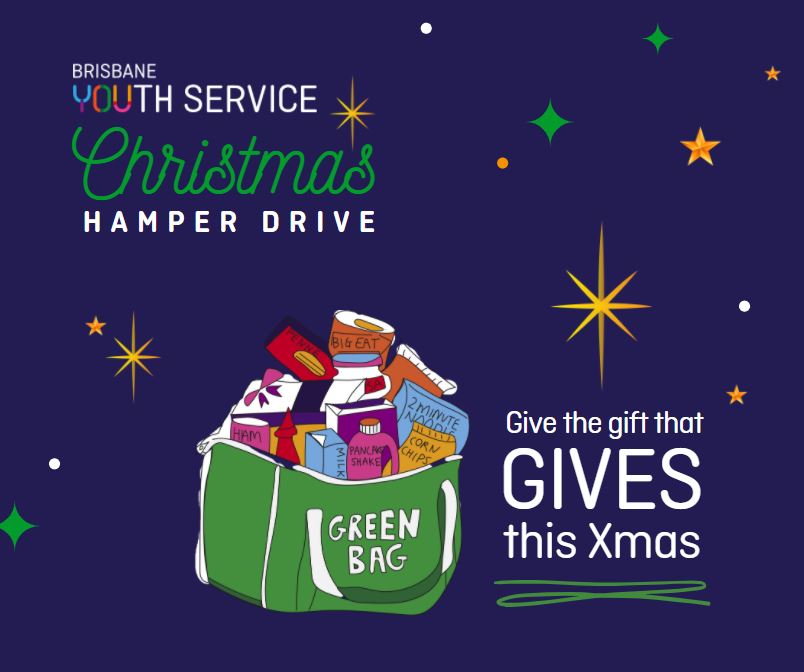 Hamper Food List
2 x Heinz Big Eats cans
1 x 5 pack 2minute noodles
2 x instant pasta packets
1 x large bag corn chips
1 x jar salsa
1 x 6 pack 200ml tetra juice
1 x pack of sweet biscuits
1 x pack of savoury biscuits
1 x pancake 'shaker' mix
festive chocolates, sweets or novelty pack
Please note, we cannot accept second-hand clothing, bedding, toys or other used or unsolicited items due to limited storage space and the time and resources required to sort and distribute such donations.
For more information please contact us at fundraising@brisyouth.org.